Newsletter September 2009
BIG "SMALL BUSSINESS" TAX BREAK ON NEW EQUIPMENT
If you're thinking about up-dating your old equipment, now is an excellent time to do so.Small businesses with a turnover ofless than $2 million a year can claim an extra 50% tax deduction on assets which cost over $1,000.This tax deduction is in addition to thedeductions for decline in value you can already claim for the cost of an asset you use in your business…
To qualify for this 50% tax break you must purchase the asset before the 31st of December this year.
INCREASED HOME LENDING INDICATES A LIFT IN NEW HOME CONSTRUCTION
According to the Housing Industry Association, a healthy June quarter for new home lending points to a recovery in dwelling starts over the second half of the year.
HIA Chief Economist, Dr Harley Dale, said that the number of loans for construction increased for an eighth consecutive month in June 2009.
He says "We expect to see a 15 per cent increase in housing starts by the end of 2009 as the positive impact of low mortgage rates and first home buyer stimulus shows up in actual construction.""We saw a near doubling in the number of first home buyer loans in the June 2009 quarter when compared to a year earlier. Clearly the Federal stimulus to this segment of the market has been a key driver of the improvement in housing indicators and there has been a consistent increase in the proportion of first time buyers entering the new home market since the boost to the grant was introduced last October."
In seasonally adjusted terms the total number of owner occupier loans in June 2009 increased in Victoria (+1.5 percent), Queensland (+1.6 per cent), South Australia (+0.6 per cent), Western Australia (+3.5 per cent), Tasmania (+17.9 per cent), the Northern Territory (+0.6 per cent), and the Australian Capital Territory (+4.9 per cent). The total number of loans was effectively flat in New South Wales, down by 0.1 per cent.

LOCAL REPAIRS, BECAUSE YOUR TIME IS MONEY
When your equipment is not working, neither are you. At Hytile we are acutely aware that your time is money. In our 44 years of operation our customers have always been able to rely on us to get them back on the roof quickly.
We can repair your Hoists and Elevators and other equipment, sharpen and service your Tilecutters, and tag your electrical gear.For your convenience, we are able to carry out repairs at any of our repair workshops below.
Bring your equipment in for fast, friendly service:
CROYDON
14 RAilway Crescent
Gary and Mark
Phone: 97254488
HALLAM
Factory 2, 42 Melverton Drive
Peter
Phone: 87863748
HOPPERS CROSSING
Unit 7, 387-393 Old Geelong RD
Darren and Doug
Phone: 93699774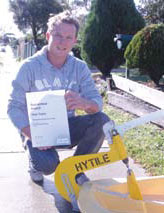 ROOF TILING & SLATING AWARDS
Gary and Peter from Hytile attended Holmesglen TAFE's apprentice awards night in May.
Hytile sponsored the award for "Outstanding Achievement". Sean Coleman from Caydar Roofing was the recipient of this award and received a new Hytile Tilecutter and Trimming Tray.Other winners on the evening were Sean Taylor from Paragon Slate Roofing who received the "Best Apprentice" award, and the 'Most Diligent" award winner was Edward Lucas from South West Roofing.Well done boys, you're off to a great start.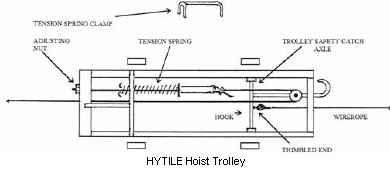 GET MORE LIFE OUT OF YOUR WIREROPE AND DRIVE WHEEL
A new wirerope will stretch approximately 80cm during the first couple of jobs. Correct wirerope tension will ensure a longer lasting wirerope and reduce wear on the Drivewheel.
Check The Wirerope Tension as follows: IMAGE
Place the TENSION SPRING CLAMP over the TENSION SPRING in the TROLLEY. (To compress the tension spring, pull up on the WIREROPE in front of thetrolley.)
With the tension spring clamp over the tension spring the THIMBLED END of the wirerope should reach no further than the HOOK on the TROLLEY SAFETY CATCH AXLE. If the thimbled end can be pulled past this hook,take up the slack in the wirerope by adjusting the ADJUSTING NUT at the back of the trolley.
When the wirerope has been set up and tensioned,put up two pallets of tiles and check the tension once again Repeat ths after 3 more pallets., and again after
another 5.
FINANCE A NEW HOIST OR ELEVATOR
Are you constantly wasting time and money patching up an old machine that has seen better days?Perhaps it's time for a new Host or Elevator.Financing new equipment might be just the solution for you,so whether you're local or interstate, give Cheryl or Faye a call for information on: 03) 9725-4488
TOOLS FOR YOUR TRADE
Hytile are registered suppliers for the TOOLS FOR YOUR TRADE scheme. If your apprentice is eligible, simply activate your Tools For Your Trade card and come in to get his equipment, or give us a call and we'll arrange to send out the goods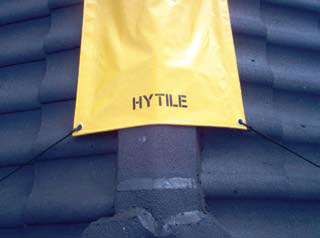 HYTILE RIDGE COVERS
-your saviours in wet weather!
NO-one wants their hard work, time and money washed away in a downpour.
Easy-to-use, heavy-duty Hytile Ridge Covers will protect all your hardwork from bad weather.

Download: