Belt Elevators
The versatile HYTILE Folding Belt Elevator is available in both petrol and electric models, and has a fully adjustable Bend. It comes in four standard lengths.
22ft (6.7mtr) total length (folding at 11ft)
32ft (9.7mtr) total length (folding at 16ft)
For those hard to reach jobs, elevators can be increased in length by inserting extra 1.8mtr or 2.3mtr sections.
The Bend is factory fitted five feet from the top end of the elevator. This allows the elevator to extend up the roof, and removing tiles from the elevator becomes safer and easier.
Tiles are conveyed on a heavy duty 6 inch wide (150mm) belt. If tiles have not been taken off at the top, an auto-stop lever brings the elevator to a halt to prevent tiles falling off the top end of the elevator.
Removable lifting handles on the base make it much easier to manoeuvre your Elevator on site.
Because the unit can be folded, the belt does not have to be taken off when the job has been completed. Just remove the motor mounting cradle, release the folding catch, fold the Elevator back on itself and drop it on your roof rack.
The motor is cradle mounted and can be removed in seconds for transportation.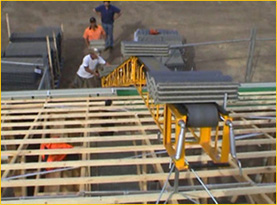 Assembly and dismantling of either model only takes a couple of minutes.
LOADING RATE
Belt Elevators can deliver over 3500 tiles to the roof per hour with 4 tiles per cleat, or 5000 to the roof per hour with 6 tiles per cleat. However the usual loading rate, even for large gangs, is around 2500 tiles per hour.
FINANCE AVAILABLE
For as little as the cost of a slab and a half of beer each week, you can take possession of a new Belt Elevator.