Gutter Pro
Cleaning the gutters? Carrying out repairs? Retrieving a ball?
Use a HYTILE Gutter Pro with your ladder for a safe, professional, hassle-free job.
Be safe when using your ladder, protect guttering from scratches and dents.
A sliding ladder can not only damage the guttering, it can send you tumbling to the ground, and on many occasionsright into the casualty department of the nearest hospital. The HYTILE Gutter Pro assists in preventing ladder movement and keeps your ladder from coming into contact with the guttering.
Using a broom handle, the HYTILE Gutter Pro is easily placed into position. Its unique design transfers the weight of the ladder and the person back on to the fascia. Rubber grips wedge into the back of the gutter, helping to keep your HYTILE Gutter Pro steady. Guards on either side prevent the ladder from sliding sideways – ensuring that on completion of your task, you and your guttering remain free from scratches and dents.
Some of our happy customers:
Tenix Alliance, one of Australia's leading providers of design, construction, maintenance, operation and asset management to the water, electricity and gas markets nationally, purchased a large number of Gutter Pros for their contractors after trialling them in the workplace over 18 months.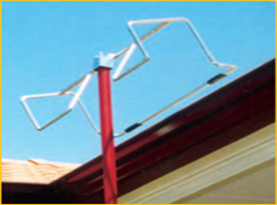 "I saw one of these in passing, being used by a local roofer. Where can I buy this splendiferous piece of must have equipment?"
February 2010
Tony White, Auckland New Zealand
"Can you tell me where I can purchase a Gutter Pro in South Australia? I used a borrowed one last weekend and was so impressed I've got to have one!"
November 2009
Andrew Smiles, South Australian Tertiary Admissions Centre, Adelaide.