Flexible Pointing
HYTILE Flexible Pointing is the result of the very valuable feedback we have received over the years from our customers – they have told us what characteristics are important to them in a flexible pointing compound and the result has been this terrific product.
It is manufactured using a highly U.V. resistant, all-acrylic binder that is ideally suited to our Australian climate. The performance of the resin used in this product has been proven over many years and will ensure an enduring, professional finish to your job.
In temperate conditions HYTILE Flexible Pointing is expected to be rain resistant within 2 hours. Should the temperature be below 15 degrees celsius or relative humidity above 70%, longer curing time is required. It is highly compatible with Quickset, a product that can be sprayed on finished pointing if rain is expected. Quickset helps the outside of your pointing go off quicker.
This product is a premium one. The resins used in it are of top quality. The speed and ease of handling of HYTILE Flexible Pointing ensures a quicker job completion time, and this adds up to savings for tilers.
Customers who had been used to carting water up onto the roof to dip their trowels in tell us that this is not necessary with HYTILE Flexible Pointing. It is easier to use in warmer weather than most other products. However, if you must use it in really hot weather, it's helpful to have a spray bottle of water with you to ensure your trowel is kept moist.
It comes with a money-back guarantee. Point up a roof and if you are not completely satisfied we will refund your money.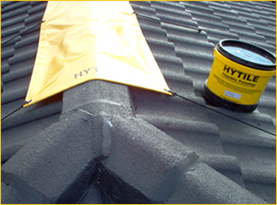 We are able to match any color required, however the standard colors that HYTILE Flexible Pointing is available in are:
Black,
Extra Black,
Grey,
Dark Grey,
Brown,
Dark Brown,
Beige,
Red,
Orange,
Blue,
Green
and Natural (ideal for mixing up less common colours or for matching existing pointing).
Give it a go – we are sure you'll find that you're very happy with this top quality product.