Newsletter Winter 2016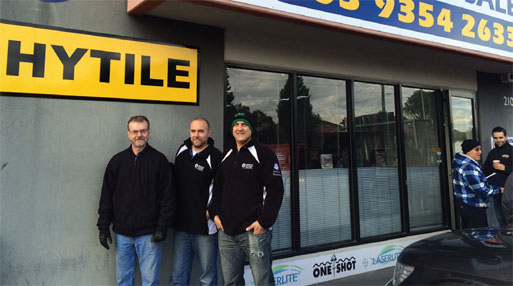 NEW HYTILE AGENT FOR NORTHERN SUBURBS
Hytile is pleased to introduce northern suburbs agent Roofing Options Centre.
This family business has been providing rainwater solutions since 1978. Their wide range of products includes colourbond steel and polycarbonate roofing products, rainheads, sumps, access hatches, cowls, flashings, downpipes, gutters and accessories. With the addition of the Hytile range they are now a truly "one stop shop" for all your roofing needs.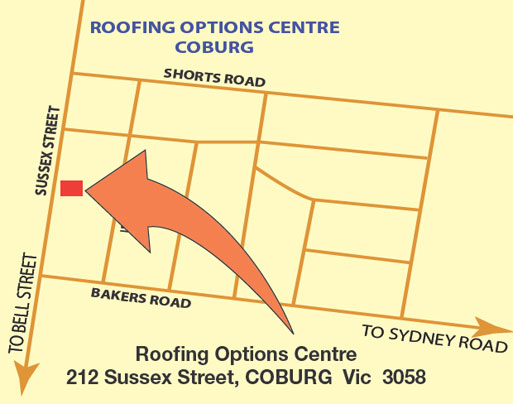 Centrally located in the northern suburbs, Roofing Optionsstocks Hytile's wide range of equipment and consumables (clips, clouts, pointing etc.), and offers service, repairs and tagging for all your elevators, tilecutters and tools.
Bill, Glen and the Roofing Options team look forward to providing you with friendly, professional ssistance for all your roofing needs. Call in and say hi, and while you're there check out Hytile's latest model snap-connector Cable Hoist, this light machine is a beauty.
SOLAR PANEL LIFTER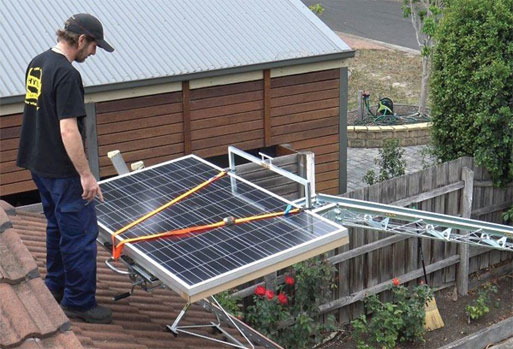 Hytile's new Solar Panel Lifter transports four panels per lift up and onto the roof. The lifter shown in the video on Hytile's website has a reach of 8.5 metres and is suitable for both single and double storey buildings.
By fitting in extra 3.6mtr sections at the base the total reach can easily be extended to 12 and 15.8 metres, which makes this versatile lifter ideal for larger commercial projects as well.
With no more costly hiring of scissor lifts or cranes, a Hytile Solar Panel Lifter will pay for itself in no time. View Hytile's new Solar Panel Lifter in action on our website at www.hytile.com.au
BE KIND TO YOUR BACK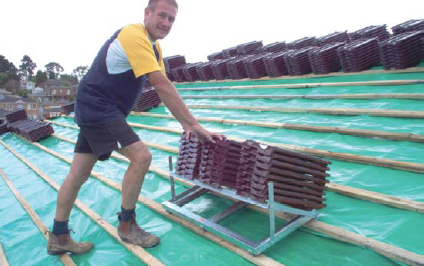 The Hytile Batten Trolley has always been a popular tool for the "back conscious" roof tiler. Tiles can be transferred from one end of the roof to the other with a minimum of physical effort.
They are particularly useful on long gable roofs, and in today's market where block sizes are smaller than ever, the options for loading a roof from all sides are limited. In these situations, the Hytile Batten Trolley can be a big advantage in speed and energy saving – just load the trolley and roll it.
ROOFTILING AWARDS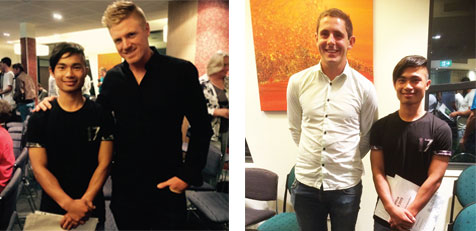 Holmesglen Institute of TAFE held their annual apprentice awards night in April. The awards were sponsored by Hytile, Roof Fixing Supplies and the Roof Tiling Association. Congratulations to the following award winners:
Best Apprentice: Mawpay Bani (R M Roofing – Reece Miles)
Most Diligent: Jackson Morrow (ATS Roofing – Angus Sculthorpe)
Outstanding Achievement: Nathan Hill (Eagleridge Roofing – Peter Kelly)
LEASE A NEW HOIST OR ELEVATOR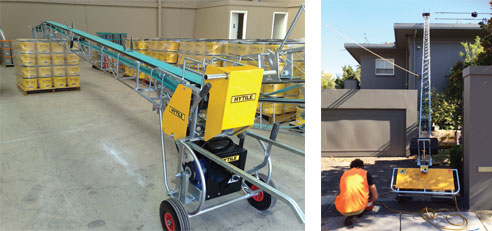 Are you constantly spending time and money patching up your old Hytile machine that may be 15, 25 or even 30 years old? If so, perhaps it's time for a new Cable Hoist or Belt Elevator.
Financing new equipment might be just the solution for you. So whether you're local or interstate, give
us a call on 03 9725-4488 to get the ball rolling.
Download: