Newsletter Summer 2015
As 2015 draws to a close and our 50th anniversary celebrations come to an end, we reflect on the things that have helped us not only survive all these years, but thrive, during good times and bad.
The loyalty and rapport developed with valued customers like yourselves, and a great team of dedicated staff with a combined total of 146 years Hytile experience between them, has helped bring us this far and ensured that we'll be around to service your needs for many years to come.
Thank you very much for your custom – we appreciate it. We wish you and your families a Merry Christmas and a safe, prosperous and Happy New Year.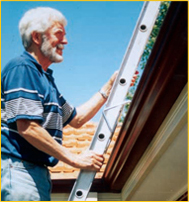 HYTILE GUTTER PRO
A Hytile Gutter Pro keeps you safe by ensuring your ladder doesn't slide sideways. It also prevents gutter damage and scratches by keeping the ladder from coming into contact with your guttering.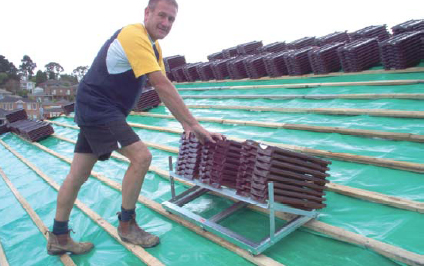 BATTEN TROLLEY
The Hytile Batten Trolley is a popular tool for the "back conscious" rooftiler. Tiles can be transferred from one end of the roof to the other with a minimum of physical effort. They are particularly useful on long gable roofs and in today's market where block sizes are becoming smaller the options for loading a roof from all sides are limited.
In these situations, the Hytile Batten Trolley can be a big advantage in speed and energy saving – just load the trolley and roll it.
JACK GUTHRIE – O.B.E.
(Over Bloody Eighty!)
As a dark-haired thirty year old, Jack Guthrie started his business in 1965, and this month celebrates not only 50 years in business, but his 80th birthday as well. We would like to wish Hytile's founder a very Happy Birthday.
IS NEW EQUIPMENT ON YOUR NEW YEAR'S WISH LIST?
If you are continually spending money keeping your old machine limping along while your workers hang around waiting, it might be time to think about up-dating.
The latest model hoists and elevators have a host of features to choose from that make your job quicker and easier than ever before:

CABLE HOIST
FASTER LOADING : with Rapid-Return the trolley returns to the base at around double the speed it went up.
LIGHT: much lighter, can be easily handled by one person.
QUICK ASSEMBLY: no bolting sections together – it folds out and snaps into place ready for use.
ROBUST : uses latest technology inverter drive.
SAFE: has low voltage electrics.
EASY START : has a start toggle top & bottom making it extra easy to send the trolley on it's way.
ADJUSTABLE BEND: can be easily operated from the roof.
VARIABLE LENGTHS: available in 20, 28, 40 & 52ft models, or customized to your requirements.
BELT ELEVATOR
A fully adjustable BEND in the top section (to 45%): Allows elevator to run up the roof to 5ft and makes carrying off tiles easier and safer.
Hard-wearing, light-weight, durable nylon runners instead of stainless steel decking: No stainless steel to replace when worn.
Side and vertical rollers: Contains the belt inside the sections.
A robust folding hinge design with snap connector: No more putting your machine and belt together every job. When the Elevator is unfolded it clicks into place ready to go, level and straight every time.
Lifting handles at top and base of elevator: Easier to manoeuvre on the roof and on the jobsite.
Auto-stop lever at top: Belt will stop if there's no-one at the top to take tiles from the elevator.
Swing out handles on each side of the hinged section of the Elevator: Easier to move the folded Elevator from the ute or truck to its position on the job.
More cleats on the belt: Increased loading capacity – can load around 3500 tiles per hour (or up to 5000 per hour with the variable speed available on petrol models, if you can load that fast!).
Motor can be removed in about 10 seconds: Lighter and easier to move around and safer when unit is left on site.
Option of Retractable Wheels on base: Allows for ease of movement around job site, then they swing up and allow the base to sit directly on the ground to add more stability when the Elevator is set up.
Option of Reverse: Elevator can be used for stripping roofs.
Download: