Newsletter September 2005
THANK YOU
In our April Newsletter we sought feedback from our customers on the products and services that we supply. This feedback is vital – it helps us to focus on what is important to you, our customer.
We would like to thank all of you who took the time to complete our questionnaire. It is your suggestions and ideas that enable us to continue to offer friendly, helpful, reliable service and to create great products that do the job that you want them to do.

THE HYTILE TILECUTTER OVER THE YEARS . . .
John Gorton was Australia's Prime Minister when production began on the first Hytile Tilecutter.

Continual feedback from roof tilers has resulted in many improvements since then, with new model Tilecutters being produced during the reigns of Prime Ministers Malcolm Fraser, Bob Hawke, Paul Keating and John Howard.
These improvements have resulted in our current model that makes the job of cutting tiles faster, easier and cleaner than ever before.
ROOFTILING & SLATING AWARDS
Holmesglen Institute of TAFE held their annual apprentice awards night in May. Congratulations to Christopher Street, winner of the Best Apprentice 2004 (sponsored by the Victorian Roofing Tile Association), and Jakobus Stanfield, winner of the Hytile Award for Outstanding Achievement 2004.
Well done boys!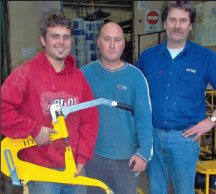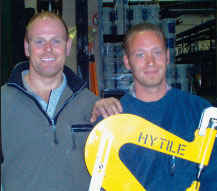 CHEERS TO OUR BEER WINNERS!
The winners so far in our 40th Birthday Celebration beer give-away are:
APRIL – Mike from Mike Collier Roof Tiling, Michael Conboy from Oasis Roofing, Rob Brown, and Aaron from McKnight Roofing.
MAY – Gary McNamara from McNamara Roofing, Matt Locke from Red Dragon Roofing, Luke Powell from Powell Roofing, and Shane Carter from Outer Eastern Roofing.
JUNE – James Howard from Howard Roofing, Bob Holland from Holland Roofing, Luke Powell from Powell Roofing, and Roof Fixing Supplies customer Mark Woodall.
JULY – Brisbane Roof Tiling customer Peter Daley, David Porter from Canterbury Roof Tiling, Russell Dockett from Russell's Roof Tile Removal and Salvaging, and Trevor Eddy from Eddy's Roofing.
By purchasing a Hytile product you are automatically entered into the monthly draw. These monthly draws will take place until the end of the year.
HOW MUCH WILL IT COST TO LEASE/FINANCE YOUR EQUIPMENT?
Repayments for a folding two section Cable Hoist with rapid return would be around $55 per week (paid back over 5 years), or around $115 per week (paid back over 2 years).
Call Caroline or Cheryl on 03) 9725-4488 for further information.


Download: