Newsletter September 2002
BUILDING ACTIVITY REMAINS STRONG
Hytile sales in all states continue to indicate that the tapering back ofthe first home owner's grant is having little effect on the pace of building commencements.
With most of our customers reporting they have more work than they can comfortably handle, this current financial year looks set to follow on from the last one.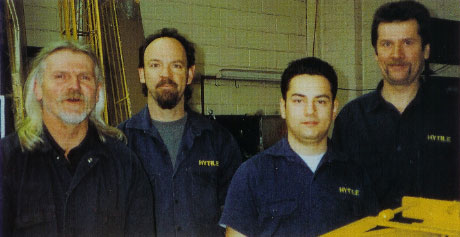 EQUIPMENT AND SERVICE YOU CAN RELY ON
With a combined total of 65 years experience in the manufacture and servicing of Hytile products, Gary, Mark, Michael and Mick "Know What They're Doing".
Call them for advice on your equipment, or bring it in for fast, expert service.
FITTING YOUR TROLLEY WHEELS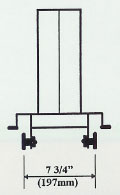 Trolley wheels last much longer if fitted correctly. By following these three simple steps you could double the life of your trolley wheels:
Straighten wheel supports
Ensure fitted wheels are 73/4″ (197mm) centre to centre
Push trolley by hand along full length of the Hoist. If the sections are dented and the trolley is obstructed – knock out the dents
ELECTRICAL EQUIPMENT TAGGED WHILE YOU WAIT
Inspectors at building sites require proof that your electrical equipment is safe to operate.
BUCKET BOOTS

Hytile can check, tag, and if necessary, repair your equipment while you wait.
Prevent your pointing compound buckets sliding on roof tiles. These heavy duty rubber boots fit snugly around the base of pointing compound buckets to stop them sliding down the roof.
Download: