Newsletter October 2003
BRIGHT HOUSING FORECAST
The number of building approvals for new homes is at a very healthy level, with June seeing the largest jump in two years.
According to the Housing Industry ssociation's consulting economist Geoff Bills "A combination of factors, including a strong economy, rising consumer confidence, low interest rates, low unemployment and increased migration ill ensure new housing numbers pick up later this year and in early 2004 after a decline over the past six months."

NEW U.F.O. BELT ELEVATOR
NOW AVAILABLE
We are very pleased to add to our wide range of equipment with the release of our newest model Belt Elevator.
This USER-FRIENDLY OPERATION model has been while coming, and like all our equipment, has come about through continuing feedback from you. It will make your job easier, quicker, more profitable and more rewarding.
I t's features include:
Safety lift-off platform at the top
No need to stand so close to the edge of the roof.
It's lighter
Improved design makes it easier to lift.
Much improved tracking system
Belt is captive between nylon runners, ensuring it does not move sideways.
Replaceable belt savers under the tiles
Tiles do not come in contact with the belt, so no need to re-position cleats.
Simpler cleat system
Cleats have no wheels or skids to replace.
35ft length now available
Choose from 22, 32, 35 & 38ft models.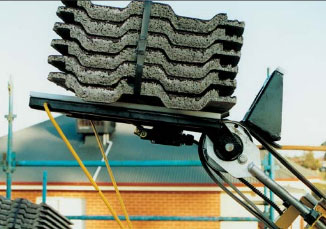 Reverse now standard
To strip the roof, just flip the switch and the tiles come down.
12 volt electrical cut-off switches
At top & bottom.
Base wheel lock
Lock the base wheels with just a tap of the foot.
Best model yet!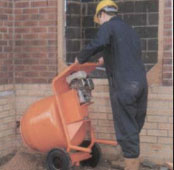 Hytile stock a wide range of equipment for Rooftilers including:
Belle Minimixer 150 concrete mixers, Protool Mixers, Grinders & Powersaws, Concrete & Terracotta blades, a choice of six lexible Pointing Compounds, Oxides, Bucket Boots, Ridge Tarps, Nails, Clouts, Clips, Cement, Sarking, Valley Seal, Valley Iron, Trowels, Slaters' tools, Brooms, Dust masks, Chalk lines, Snap lades, Silicone, Nail bags………and more.
Call in to pick up your goods, or phone, fax or e-mail us and we'll have them delivered to your door.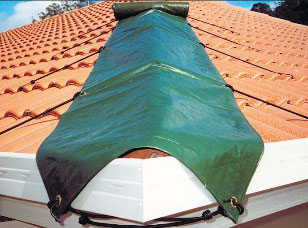 NO MORE WASHOUTS!
The Flexicover Ridge Tarps we stock have proved a very popular addition to our range of products.
Designed by a roof tiler, for roof tilers, these heavy-duty polyethylene arps are just what you need to ensure your hard work, time and money are not washed away in a downpour.
A vailable in seven metre rolls, they are quick and easy to use.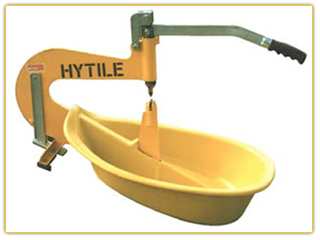 TILECUTTERS
Are you still using an old model Tilecutter? Try our current model – it's a breeze to operate.
ELECTRICAL EQUIPMENT TA GGED WHILE YOU WAIT
Building site inspectors require proof that your electrical equipment is safe to operate.
Hytile can check, tag, and if necessary, repairy our quipment while you wait.
HYTILE
14 Railway Crescent, Croydon, Victoria 3136, Australia.
Phone: (03) 9725 4488 1800 333 271
Fax: (03) 9725 4957
Email: [email protected]
Web site: www.hytile.com.au
Download: