Newsletter May 2003
BUILDING lNDUSTRY ROLLS ON
In spite of our global concerns the Australian building industry is continuing on in a healthy state.  At this stage, last year's pace looks set to carry on for some time. Interest rates remain historically low, and confidence in the market place is high.
We wish you a successful 2003.
NEW HYTILE AGENT IN THE WESTERN DISTRICT
We are pleased to announce the appointment of D. Roof Supplies as a Hytile Agent.
Well respected Dickson brothers Barry and Jeff have a combined experience of 24 years in the roofing industry.  They have been operating as Dickson Roofing since 1992, and established D. Roof Supplies in 2001.
Both have a good knowledge of Hytile equipment and stock a full range of our products ready for pick-up or delivery.  The areas they service include Melton, Bacchus Marsh, Geelong and also Ballarat.
D. Roof Supplies Pty Ltd
Lot 28, 10 Heath Court, GREENDALE Vic. 3341
Phone: 5368 6306 Fax: 5368 6307
Barry: 0414 325 294 Jeff: 0411 837 506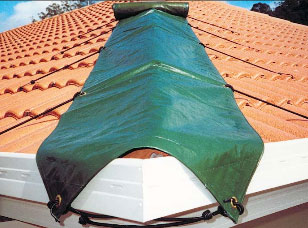 RIDGE TARPS
Ensure your hard work, time and money are not washed away in a downpour. Flexicover Ridge Tarps protect pointing and bedding in wet weath-er. You can take advantage of a break in the rain to finish that job, then protect it with a Ridge Tarp. Ridge
Tarps can be rolled out and fixed from one to seven metres and are made from heavy duty polyethylene with extra U.V. protection.
DELIVERY WITHIN 2 HOURS – MELBOURNE METRO AREA
Run out of nails? Need more pointing compound? Call Julie or Caroline with your order and we will have your goods delivered to you on-site within 2 hours.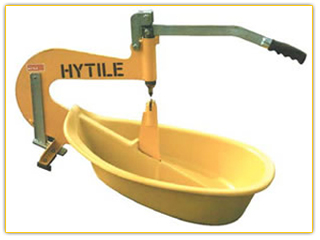 TILECUTTER
Our yellow Tilecutters are available in Chisel and Wheel, or Double Chisel models, and are always in stock.
Drop in to pick one up, or call us and we'll have your goods delivered.
DID YOU KNOW THAT . . .
A successful man is one who earns more than his wife can spend!
LEASE A HYTILE HOIST OR ELEVATOR
If you would like to up-date your equipment, leasing is an option you may like to consider.
Hytile's leasing agent operates in all states and could have you sending tiles up on a brand new elevator in under two weeks. Give Caroline or Julie a call for further details.
NEW MODEL BELT ELEVATOR
Our new model Hytile Belt Elevator will soon be available!
Details in the next newsletter
Download: