Newsletter December 2006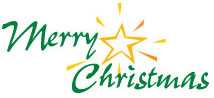 As 2006 draws to a close Hytile would like to thank you for your custom this past year. We wish you and your families a very Merry Christmas and a safe, prosperous and Happy New Year.
Best wishes from Jack, Gary, Mark, Fergal, Julie, Caroline, Cheryl and Peter.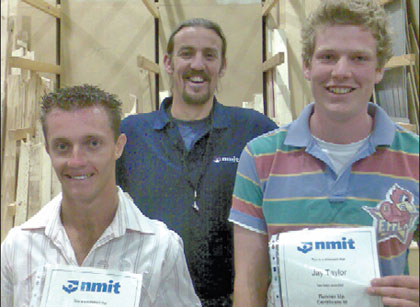 TAFE APPRENTICE AWARDS NIGHT
Gary, Julie and Peter from Hytile recently attended the NMIT's annual apprentice awards evening.
Hytile sponsored two Rooftiling awards, and the winners Raymond Schwarze and Jay Taylor are pictured with TAFE teacher extraordinaire Shane Scotson.
Guest speaker for the evening was Radley DeSilva, Deputy Executive Director of the Master Builders' Association of Victoria. He said that even though Victoria has been experiencing a mild downturn in the building industry, it is worth noting that in the past year there have been 40,000 new homes. This compares with an average over the last 15 years of 35,000.
Under the Australian Government's "Tools For Your Trade" initiative, new apprentices are now entitled to receive tool kits to the value of $800. Hytile are a registered supplier, so please let us know if we can help you.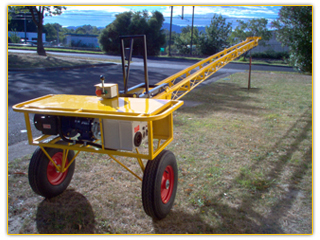 LEASING A HOIST OR ELEVATOR
If you'd like to update your old machine, consider a leasing arrangement.
For as little as $60 per week you can take possession of a brand new hoist or elevator.
Give Julie a call on (03) 9725 4488 for more information.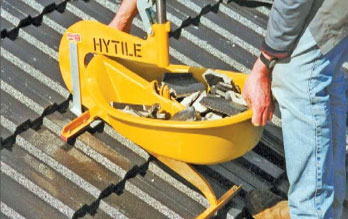 KEEP YOUR WORK AREA SAFE & CLEAN
Hytile Trimming Trays are a great way to keep the roof and guttering free from bits and pieces of cut-off tile. Keep the roof safe and eliminate the need for clearing up after the job by using a durable, light-weight Trimming Tray with your Tilecutter.
HOW CAN WE HELP YOU?
Is there any way that we can assist in providing you with goods or services to help your business run more smoothly and profitably? It is from your feedback that we get the necessary information to continually improve our existing products, and the inspiration to develop new ones. Please call Gary, Julie or Peter to discuss your needs.
RHINOWRAP SARKING
Hytile now stock heavy-duty Rhinowrap sarking at both our Croydon and Hallam outlets. Great low price and discount for volume purchases.
Download: