Newsletter Autumn 2018
QUESTIONNAIRE A TEE-SHIRT FOR YOUR THOUGHTS?
We continually improve our equipment because we listen to what you say.

Some great ideas we've put into practice over recent years on the Cable Hoist include a snap-connector, a wirerope adjustment lever, and a brake for the base wheels, and our Belt Elevator has seen the installation of a guard to ensure users keep clear of cleats as they round the top end. These improvements make your job faster, safer and easier.
Your opinion matters. Please tell us what works for you, what doesn't, and how we can improve, by completing the attached questionnaire. We will send you a Hytile Tee-shirt to say "thanks".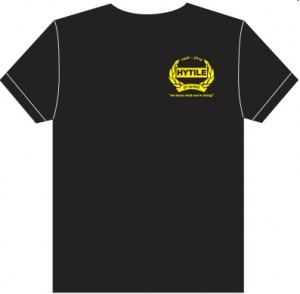 $3,000 BACK IN YOUR POCKET
The Instant Asset Write-off Scheme from the 2015 Federal Budget has been extended once again, and at this stage will continue until the 30th June, 2018.
What does this mean for you? In effect, on the purchase of a new Cable Hoist or Belt Elevator, you get the full depreciation amount (around $3,000) back in your pocket at tax time because the scheme allows you to deduct the full value of every asset immediately, instead of staggering it over a number of years. If you're considering a new Cable Hoist or Belt Elevator, or any new equipment for that matter, now might be just the right time.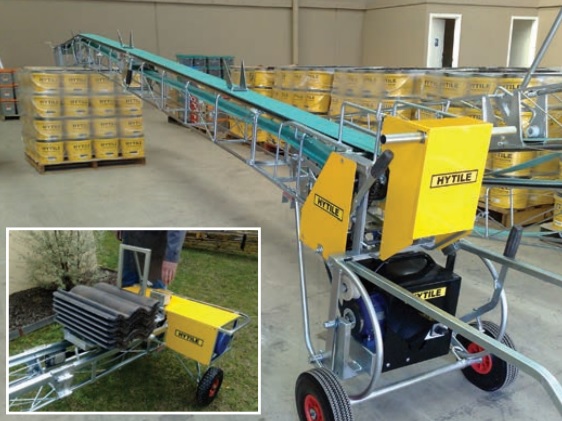 FINANCE FOR A NEW ELEVATOR
If you constantly spend time and money patching up an old machine that has seen better days, perhaps it's time to up-date to the latest model Cable Hoist or Belt Elevator.
Financing new equipment may be just the solution for you and could cost as little as $64 per week. So, whether you're local or interstate, if you'd like information give us a call on 03 9725-4488.

HYTILE TILECUTTER WITH TRIMMING TRAY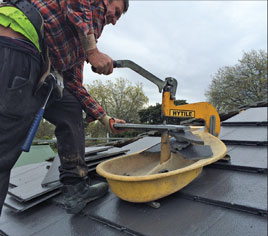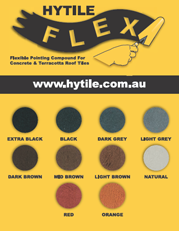 HYTILE BATTEN TROLLEY
The Hytile Batten Trolley is a popular tool for the "back conscious" roof tiler. Tiles can be transferred from one end of the roof to the other with a minimum of physical effort.
They are particularly useful on long gable roofs, and in today's market where block sizes are becoming smaller the options for loading a roof from all sides are limited. In these situations, the Hytile Batten Trolley can be a big advantage in speed and energy saving – just load up your trolley and roll it View it in action on our website at www.hytile.com.au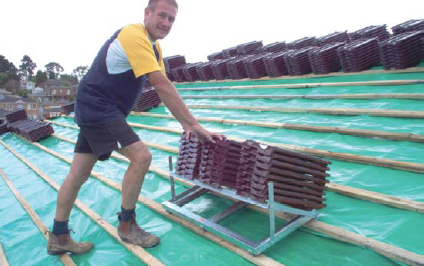 RIDGECOVERS
It's that time of the year again! Don't let your hard work, time and money get washed away in a downpour. Invest in a few Ridgecovers so you always have "protection" on hand.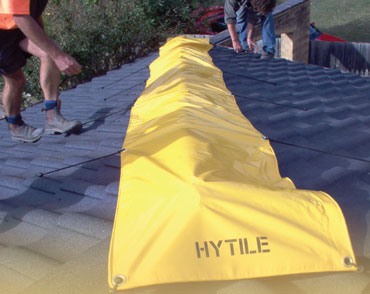 TAFE ROOF TILING APPRENTICE AWARDS
Hytile was proud to sponsor Homesglen TAFE's annual Rooftiling apprentice awards night held in March.
Congratulation to award winners Dylan Gal-Cavalar, Hayden Hasselo and Ben Decent. A great effort, well done boys.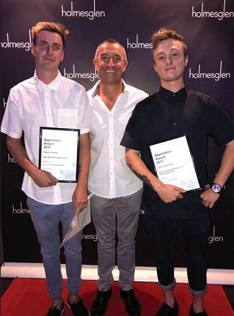 Download: