Newsletter August 2007
HYTILE'S NEW "BEND" MODEL BELT ELEVATOR
After a two year period of research and development, production has now commenced on our new model Belt Elevator. Hytile's new BEND model Belt Elevator has an adjustable bend in the top section. It can be factory fitted between 4ft and 12ft from the top end of the elevator (as the purchaser requires). This means the elevator can be extended further up the roof and carrying off tiles becomes much easier. Reversing option is available.
On this new BEND elevator you have a choice of either the popular FOLDING option, or our new design CLIP-TOGETHER sections.
The folding option means that the elevator does not have to be bolted together each job – just unfold, adjust the belt tension, and away you go.
The clip-together option will be popular where there is limited man power. Each individual section can be easily handled by one or two men.
The elevator can be assembled very easily – no bolts between the sections – it just clips together.
The time-consuming task of fitting and un-fitting the belt each job is avoided by the use of a two piece belt that remains within the sections, even when the elevator is dismantled.
Monier Roofing in New Zealand have recently taken delivery of one of these new elevators and are extremely happy with their choice. "It's an awesome machine" says Cory Tauwhare. "It's obvious a lot of work has gone into it – the boys think it's brilliant".
If you'd like information on one of these new elevators please give Gary or Mark a call – they will be able to give you advice and answer any queries you may have.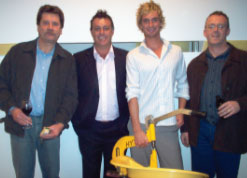 TAFE AWARDS NIGHT
Gary Luscombe from Hytile Croydon, and Peter Guthrie from Hytile Hallam attended Holmesglen TAFE's apprentice awards night held in May.
The Hytile-sponsored award for "Most Outstanding Apprentice" went to Trent Hogan who works for Roof Top Tiling. Apprentice of the Year winner was Luke Murphy who received Hytile goods that were sponsored by the Victorian Roofing Tile Association.
Well done boys – keep up the good work.
Gary Luscombe, Brett Hunt (Roof Top Tiling), Trent Hogan and Peter Guthrie enjoy some hospitality at the Holmesglen TAFE apprentice awards evening.

Even though long-time N.Z. Monier man Bill Adlington has officially "retired", he will be continuing to provide customers in the land of the long white cloud with all their Hytile equipment, as well as expert advice on our products.

Bill can be contacted on the following numbers:
Phone: 09) 299 7835
Fax: 09) 299 7801
Mobile: 0274 734 228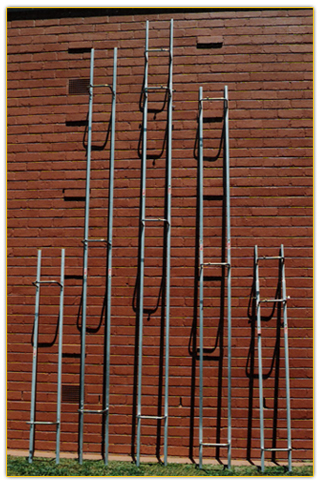 HYTILE BEDDING FRAMES
5 Models to choose from:
"Standard"
This model is 3600mm long (12ft).
It is made from tempered aluminium and is light and easy to handle. The thick layer of sponge rubber glued to the underside gives it added grip on steeper roofs.
"Shorty Standard"
The Standard Shorty is also made from aluminium with the sponge rubber glued to the underside, but is only 180mm in length. Ideal for short, steeper hips. Quick to use, easy to handle.
"Extendable"
Made from plated tubular steel, this 4000mm (13ft) model can be extended to 6100mm (20ft). Great for the long hips.
"Shorty Extendable"
This is a half size Extendable. It is only 180mm (6ft) long and extends to 3400mm (11ft). It is quick and easy to handle and ideal for those small jobs.
"Economy"
This no frills model is made from plated 25mm tubular steel and is 3200mm (10'8″) long.
FINANCE NEW HOIST
Is your equipment letting you down? Are you constantly spending money and time patching up an old hoist that has seen better days? Financing a new Cable Hoist or Belt Elevator could be right for you. Call Caroline or Cheryl for information on how you can take possession of a new machine for as little as the cost of a slab and a half of beer each week – phone 03) 9725 4488.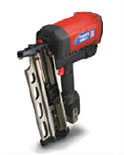 POWERS GAS FRAMING GUN
Hytile now stock Powers Gas Framing Guns. They come with two batteries, and suit both Powers and Paslode nails. Come in and have a look at one. Great low price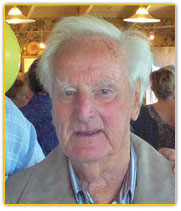 In fond memory of Frank Lawson.
Frank contributed much to the success of Hytile, ever willing to share the benefits of his vast business experience and wisdom. He will be missed by all at Hytile.
Download: