Newsletter April 2009

WEBSITE
If you haven't checked it out already, log on to www.hytile.com.au and have a look at Hytile's new
website. You can now view
videos of our equipment in action.
News from the Housing Industry Association

"The best home affordability conditions in years and the boosted federal First Home Owner's Grant have propelled the sale of new detached houses, with Victorian new home sales up by a healthy 16 per cent in the three months to January."
New home sales surged by a strong 19.3 per cent in January according to the latest survey by the Housing Industry Association (HIA), Australia's largest building industry association. "These results support anecdotal evidence of a strong resurgence in first home buyer activity in our state," said HIA Acting Executive Director Robert Harding.
For the month of January new home sales increased by 24.2 per cent in South Australia and were up by 10.9 per cent in Queensland and 0.9 per cent in Western Australia. Sales fell by 5.8 per cent in New South Wales. House sales were up over the three months to January 2009 in New South Wales and Victoria.
Do you need a new Cable Hoist or Elevator? If so, consider this …
As part of its efforts to stimulate our economy, the government has introduced an investment tax break for all Australian businesses which it is calling the 'Small Business and General Business Tax Break'.
This tax break means that you will be able to claim an extra 30% tax deduction for equipment costing $1,000 or more that you purchase between 13th December 2008 and 30th June 2009.
SMALL BUSINESS TAX BREAK
The extra amount you can claim will drop to 10% between July 2009 and December 2009.
Example: A rooftiler who buys a new Cable Hoist before June 2009 can claim an additional deduction of $2,790 (30%) on his 08/09 tax return. This is on top of the $1,950 (20%) that he is already able to claim.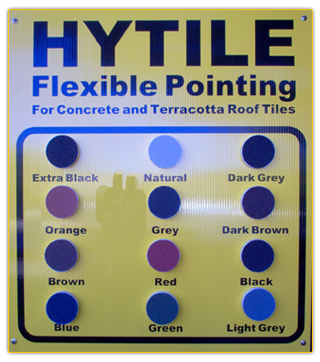 HYTILE FLEXIBLE POINTING
This product is a favourite with roof tilers who want a top quality product they can rely on.
Easy to use, and without a strong chemical odour, it's available ina range of popular colours.
We are so confident in our product that we offer a money-back guarantee: Point up a roof, and if you're not satisfied we will refund your money.
Finance a new Hoist or Elevator
For as little as the cost of a slab and a half of beer a week you can lease a new Hoist or Elevator. Call Cheryl or Faye for further information.
ARE YOU GETTING GENUINE HYTILE SPARE PARTS ?
When you purchase parts for your equipment, are you getting genuine Hytile parts? Our spare parts are made from the highest quality material and engineered to last.
When we first made our Hytile Tilecutter the chisel and wheel did not hold their edge for as long as we had hoped. To combat this we increased the hardness,
but chipping of the wheel and chisel occurred. After much experimentation and lots of feedback from our customers over the years we now have wheels and chisels that are tough, durable and give the performance you expect.
When you purchase Hytile products you get equipment that does the job you want it to.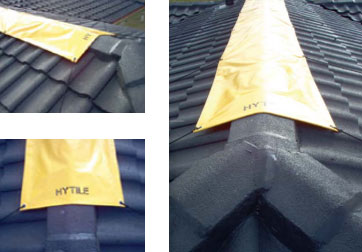 HYTILE RIDGE COVER
Save time and money in bad weather. Protect your bedding and pointing with a HYTILE Ridge Cover.
These easy-to-use, heavyduty covers will ensure your hardwork, time and money are not washed away in a downpour. Call us, or your local Hytile agent, to place your order.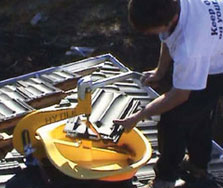 TILECUTTER MAINTENACE
Maintaining your tilecutter will ensure you continue to get fast, accurate cuts.
The chisel can be sharpened with a grinding wheel, but make sure you have a container of water handy to keep the edge of the chisel cool. Hardness will be lost if it gets too hot.
As the chisel and wheel wears, the gap between them widens. Don't just slide the chisel down and nip up the grubscrew – it will pop back up with the first cut. Instead, pack some small washers under the base of the chisel.
Replace the wheel when it wears down. Worn bolts in the handle and plunger linkage can be replaced with our special oversize bolts. If you prefer, we will do the maintenance for you while you wait.
Download: