Newsletter December 2009
50% TAX BREAK ENDS 31st December
If you think you'll be in the market for a new Cable Hoist or Belt Elevator any time soon, why not take advantage of the extra 50% tax deduction that is currently on offer for new equipment purchases.
You'll need to place your order soon, as this federal government initiative comes to an end on the 31st of December.
RAISE YOUR ELEVATOR TO THE ROOF WITH EASE
Roof tiling is perhaps the most physically demanding occupation in the building industry. It requires a considerable amount of heavy lifting, with much of the work being done in a stooped or bent-over position.
At Hytile we are acutely aware of the need to produce equipment that helps keep back strain and physical effort to a minimum, equipment that is also safe, effective and user-friendly. If you'd like assistance setting up your machine on the job, consider using a Hytile Elevator Lifter. This useful decide allows one man to lift the longest Hoist or Elevator to roof level with no back strain.
The Lifter is clamped onto a rafter and the nylon rope is dropped down and tied on to the Elevator. By punping the lever, your Elevator is easily lifted to roof level.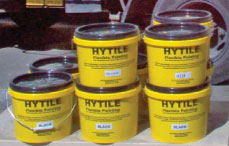 HYTILE FLEXIBLE POINTING
This product is a favourite with roof tilers who want a top quality product they can rely on. Easy to use, it's available in a range of popular colours.
Durable, U.V. resistant Hytile Flexible Pointing is backed up with the guarantee of "a full refund if you're not completely satisfied".
Give it a try – you won't be disappointed.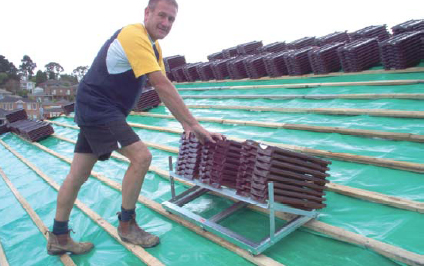 BATTEN TROLLEY
The Hytile Batten Trolley has always been a popular tool for the "back conscious" rooftiler. Tiles can be transferred from one end of the roof to the other with a minimum of physical effort.
They are particularly useful on long gable roofs and in today's market where block sizes are becoming smaller, the options for loading a roof from all sides are limited. In these situations, the Hytile Batten Trolley can be a big advantage in speed and energy saving – just load the trolley and roll it.
Download: